Thank you all so much for voting, as always. Here are the results.
This is out of 27 votes. Even if you follow 1 blog, you are awesome in my book. Do you know how much us blogger's love our followers? Seriously. Followers are to bloggers what alcohol is to an alcoholic. No joke.
I personally follow 96 blogs. It takes me hours...I mean hours, to go through my reading list every day and try to comment. Sometimes, I just don't comment because I have no clue what to say, but I read them...every day. It's my morning routine.
I come in, sit at my desk, open up Blogger, post, then start reading. Usually by noon, I've caught up on everything and start on my actual work. It's my favorite part of the day. Honestly. Then after I finish my real work, I log back on and check to see if there have been anymore updates. (I think I may be obsessed)
You bloggers make me laugh, cry, rant, ooo and awe first thing in the morning. My commenters make me so happy that no matter what kind of work bullshit I'm putting up with, its ok. I can escape here.
So thank you. Everyone. This Thanksgiving at the dinner table when I'm asked what I'm thankful for, I'm going to say my blogging friends. My grandparents are going to look at me like I've grown two heads and probably think that blogging is some kind of illegal activity. Boyfriend will say, "Gee Thanks." My sisters will start going on and on about which posts they liked the best. My mom will laugh and act like she has a clue.
Yep. I'm going to take over Thanksgiving conversation. No one's thankful speech will beat mine.
Anyways, back to being a follower, this week I am recommending
*Dandelion Wishes*
. I absolutely adore this blog. She is also doing an amazing giveaway. Go check her out and enter for a chance to win a whole blog makeover!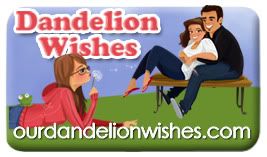 Ok! New poll for the week!
What is your status?

It only takes a second to vote!
Also,
Barb
won the Giggle Button trivia this week by answering
In the TV series MASH, what is Radar's surname?
first. The answer was indeed O'Reilly. Go click the button. Do it.
Isn't Radar adorable? I heart him.

P.S. I'm trying to think of a reoccurring title for my Thursday poll results, Giggle Button winner, and blog recommendation. I'm coming up short. Anyone got any ideas?